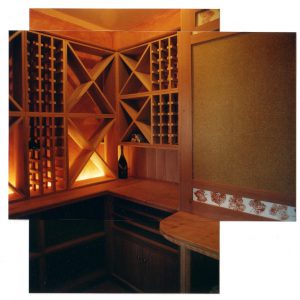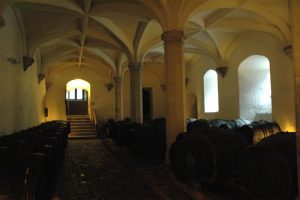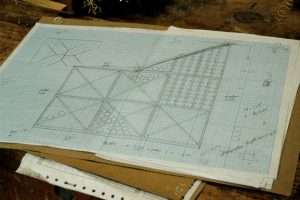 Once you start collecting your wines at a rate faster than you can enjoy them, you may want to think of storage to avoid a build up of clutter in the hallway, garage and, heaven forbid, on the kitchen floor.
Practical and inexpensive solutions can be found, in some cases, by discussing your storage requirements. I can give good advice based on your existing storage capacity.
If something extra is required I'm happy to discuss how I can help contact me. You can opt for sheer functionality but it can also be nice to create ambiance if space allows.
The first photo is of a cellar I designed, made and installed, completely made of redwood cedar with back lighting, storage for individual bottles, case lots, magnums, cabinets for glass ware, serving trays and a cork lined panel to pin administration sheets on, surrounded with a print of grape vine leaves
The small picture to the left I made in the Wine cellar of Henry VIII at Hampton Court.