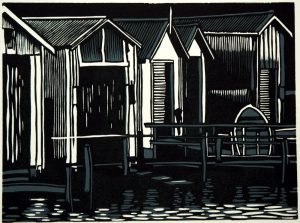 This is a reduction lino cut print. Simple with two tones and original white of the paper. Image 205 x 150 mm on Arches 185 gms. warm white paper. Print size is 305 x 250 mm. Used Charbonnel etching ink. The photos show the way I achieved correct registration.
While I was there taking photos one of the owners invited me into his shed. It was a veritable paradise. I could spent a lot of time there in bliss and total happiness.
I believe the boat sheds were build in the 1930's and I do hope they will be around for a while to come.
All images copyright © to acw ten broek