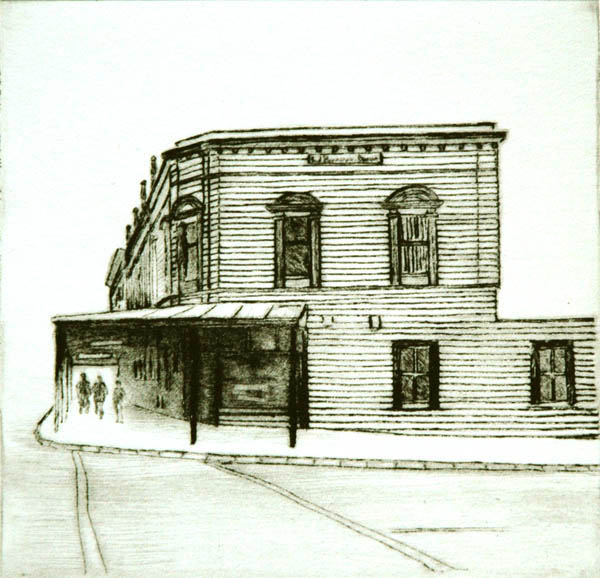 Moving around Auckland one comes across many beautiful buildings e.g. in the vicinity of the campus of Auckland University and Albert Park as well as characterful streets, nooks and crannies which can be found in Devonport, Ponsonby, Freeman's Bay, Parnell and many more. Areas like Dominion Road, Point Chevalier, Kingsland, Avondale and so on, too have their own special character.
This is a series of drypoint etchings of buildings and scenes around Auckland I started some time ago and hasn't been completed yet. I started this series because it's a pity that those buildings and character spots are disappearing in a frenzy of development fuelled by sheer greed. It happens fast, right before your eyes and it is often not missed until they are actually gone – but then it's too late.
I'm not sure if it was as a result of this series, but at some stage I was contacted by the new, like minded, owner of the building on Jervois road who assured me that while refurbishing it he was going to take care that its character wasn't going to be altered. He kindly sent me photos of the work carried out there.
Unfortunately it is not happening in other places. I refer to two articles in the New Zealand Herald and one in Art New Zealand. (Click on the links at the bottom)
They are about legalised wanton vandalism where local authorities, instead of offering a lead and create the mechanism to prevent such things from happening, seem to dither by bowing to greed and avarice. They were in such a hurry to take down the building referred to in the first link, that some beautiful furniture was actually left in the house when they moved in the machinery.
http://www.art-newzealand.com/Issues21to30/artplaces25.htm
http://www.nzherald.co.nz/entertainment/news/article.cfm?c_id=1501119&objectid=10680042
Here is an other act of vandalism being planned.
http://www.nzherald.co.nz/nz/news/article.cfm?c_id=1&objectid=11299361
This series is printed on Stonehenge warm white, 245 grammes with Charbonnel  Ivory Black. All image sizes are 110 x 113 mm, all paper sizes are 190 x 190 mm.
All images copyright © to acw ten broek