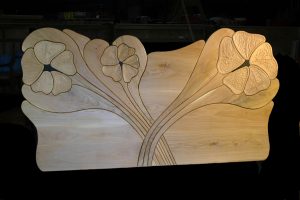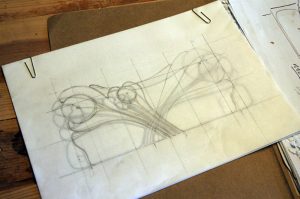 This is a bedhead I made for a client who wished a something more feminine or flowery design. It also had to be sufficiently wide to be able to separate the beds or push them together. So the total width was two meter seventy at the base.
I made the following design. Three imaginary flowers in a bunch spread asymmetrically across the background.
All segments are made of solid oak 27 mm thick, to be fastened to a 19 mm base. The initial idea was to have the background limed white; the stems dyed dark green and the leaves a lighter shade of green. The petals of the flowers to be sculpted and dyed a deep burgundy red. The hearts of the flowers are to made of real ebony.
As the job progressed it was decided to drop the idea of using dyes. It seemed a pity not to enjoy the rich grain of the timber and the texture of the design.
These are some photos of this project.
Design and photos are strict copyright © to A.C.W.ten Broek 2013