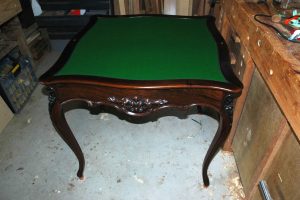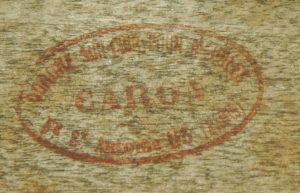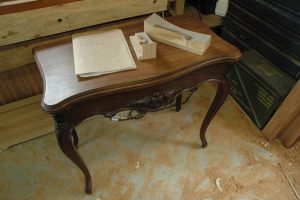 On this page, pictures of a restoration of an antique French card table. Although it seemed to be all in one piece, it was actually only just hanging together. Most joints were loose and had come apart, veneer was chipped in several places, the drawer runners were broken off and missing, and some pieces of scroll work were missing.
Same goes for part of the dust board and a stay holding the sliding mechanism together and functioning. The baize was deteriorated and leather edging partly missing. In general it was looking poorly.
It was quite a job to get the scroll work matching exactly with the red African mahogany. For the baize I had to hunt around and found what I wanted at a place where they repaired billiard tables. Luckily they kept a stock of old baize, old pieces from a billiards tables, used rather than using a new piece lacking patina. After the baize was fitted, green leather trim was cut in and gilded.The pictures speak for themselves – this was a rewarding project.
all images copyright © to acw ten broek