Propeller, etching on copper plate 40 x 50 cm
31 Mar – 5 Jun 2019
A childhood memory. A wooden propeller stacked in the kitchen in 1954 Tanah Radjah, a plantation in Deli, Sumatra. Absolutely no idea how that object ended up there as there wasn't an aerodrome within miles. It has always bedeviled me and probably I'll never find out. These are two sketches drawn from memory which will be the basis for this etch. The biggest challenge will be depicting the fall of light through the floating dust.
Market scene, Lino-woodcut 50 x 50 cm.
1 Feb – 31 May 2019
One key block of battleship lino, one block of cork lino for shading and three plywood blocks for the colours.
The scene is based on the popular market held every Sunday in Esperaza in the Aude Haute Vallée.
A sketch to show the general idea.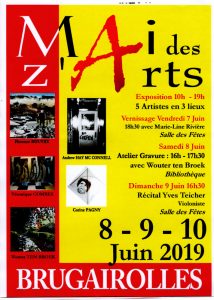 A pleasant week end in Brugairolles, Aude department of France.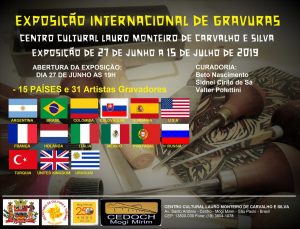 An international printing expo in São Paulo in Brazil. Thank you to the curators Beto Nascimento, Sidnei Cirilo de Sá and Valter Polettini.