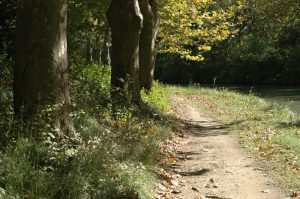 The Canal du Midi (until the French revolution known as the Canal Royal en Languedoc) was constructed between 1666 and 1681 under the supervision of Pierre Paul Riquet during the reign of Louis XIV.
It was built to cut down travelling time around the Iberian Peninsula and at the same time avoid the rampant piracy on the North African coast. It was also handy not to have to tackle with the recurrent foe, Great Britain, with its base in Gibraltar.
Considering the technology available at the time it was an incredible project of stupendous proportions. It is 241 km long with a total 104 oval locks. Oval to withstand the lateral pressure of the ground around them, much the same as arches are constructed.
To feed the canal at its summit it also required some very advanced engineering. E.g. the Bassin de St. Ferréol, which is the main feeder, was created by building a dam of 700 meters long, 30 meters above river level and 120 meters thick at its base. At the time it was the largest civil engineering project undertaken in Europe.
All the work was carried out with pick and shovel. During the fifteen years of its construction some 12000 workers were engaged. They benefitted from some pretty advanced labour conditions such as being paid for down time due to rain, Sundays, public holidays and even sick pay.
Women on the work force coming from the Pyrenees contributed their local experience with hydraulic engineering. With their input they perfected some of the water supply system for the canal and they built the eight lock staircase at Fonserannes. Unfortunately Monsieur Riquet died just before the completion of the works.
In the end rail and road transport became increasingly competitive. The commercial use of the canal stopped altogether  in the 1980's. Since 1991 it is used for recreational purposes with touring barges plying between Bordeaux and the Midi. However it is still important to the State as the canal is used as a reservoir capable of irrigating some 40000 hectares of farmlands.
Those who are interested to really know more about the Canal du Midi can look up the WIKI article on the internet. I just condensed some of that information to use on my website.
On a more personal note. It was about five years ago on a beautiful early autumn morning that my wife and myself cycled along the Canal du Midi between Bram and Carcassonne. We were treated to a variety of views and everything was so calm and serene. Just us, the birds, a boat or two, a picnic and five years on, a print.
Print image is 50 x 50 centimeters, printed on Somerset 300 grammes paper.
All images copyright © to ACW ten Broek