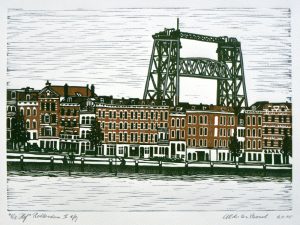 De hef is de populaire benaming van de Koningshavenbrug, een buiten gebruik gestelde spoorweghefbrug over de Koningshaven in Rotterdam, die het Noordereiland scheidt van de wijk Fijenoord.
De brug is ontworpen door ingenieur Pieter Joosting en opengesteld in October 1927. Deze brug was de eerste van haar soort in West Europa.
De brug wordt tegenwoordig niet meer gebruikt, omdat het treinverkeer sinds September 1993 vanaf het Centraal Station tot Station Zuid door de Willemsspoortunnel rijdt. Door de tunnel waren de Maasbruggen overbodig geworden en de Hef stond op de nominatie om te worden gesloopt. Na brede protesten van de Rotterdammers is daarvan afgezien. De brug is nu een Rijksmonument.
"De Hef" is the popular name of the "Koningshaven Bridge", a disused railway lift bridge over the "Koningshaven", a harbour in Rotterdam, which separates the "Noordereiland" from the "Fijenoord" district.
The bridge was designed by engineer Pieter Joosting and opened in October 1927. This bridge was the first of its kind in Western Europe.
The bridge is no longer used today. From September 1993, the train traffic from the Central Station to Station Zuid moves through the "Willems" railway tunnel. As a result of the tunnel, the bridges across the Maas river had become redundant and "The Hef" was on the nomination to be demolished. After broad protests from the Rotterdammer population, this has been abandoned. The bridge is now a national monument.
 This is a reduction lino print. The size of the edition is 30. Image size is 30 x 21 centimetre. Paper size is 38 x 30 centimetre. Paper is Somerset 250 grammes white.
 Copyright @ acwtenbroek