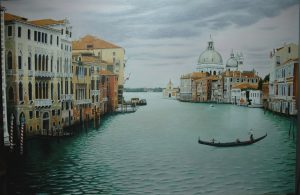 The view of Santa Maria Della Salute across the Canal Grande in Venice has been drawn and painted by more artists than I could possibly feed in a life time. So why should I try it as well? Maybe it is a view to behold. It depicts a laid back Sunday afternoon at the end of October. Hardly any traffic on Canal Grande.
First time in Venice in 2003 for five days and travelling with my wife, I could not afford to sit down and take all the time in the world to sketch on the spot. So a photo had to suffice.
As soon as I began painting from that photo I ran into trouble. I couldn't look round the corners, or through ships. A blur on a building on the right was, in fact, a magnificent mosaic. I needed to know the actual layout of the Customs' building and so on.
I did a lot of research on most of the individual buildings lining the Canal along that stretch – the web is invaluable for that – but that was still not good enough.
We figured that even a full year would be insufficient to soak up all the beauty of Venice, but even so, we returned in 2005 for another five days. Then, I could poke around all the corners and make note of details and features which I missed the previous time.
The painting remains unfinished. I started with the umber under painting and since have gone over it three times laying down the colours and experimenting with glazes. This is still under painting what you see. Painting the water is definitely a challenge but I will get there.
all images copyright ©to ACW ten Broek