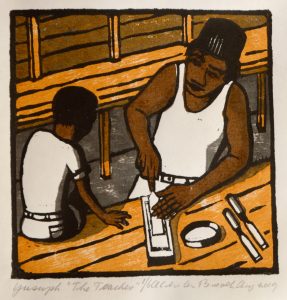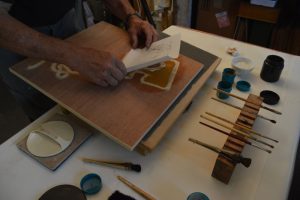 When, as a small boy, on walkabouts around the emplacement of the plantation where my dad worked in Sumatra, I'd visit one of my popular places. The carpenters workshop next to the factory. It stood across from the big ramp where the latex carrying trucks emptied the tanks full of latex into the coagulation bins. It was built at the edge of a stand of mature rubber trees, nicely shaded by overhanging branches and thus a cool place to be during the hot hours of the day.
Yusuph, the carpenter, was employed to make and repair all the utensils normally used on the plantation. He also made all kind of furniture for the people working and housed there. He was a friendly man. He would set me on his working bench and showed me what he was doing. All the while telling me the Malay names for some of the tools he used and in turn I told him what the Dutch names were.
I just enjoyed to be in his workshop sitting between all the things he made, and the curls of the timber he shaved of with his very sharp planes. I loved the smells of the two timbers he used most of the time. Kaju Meranti and Kaju Merbau. I would say that it had a lot to do with the fact that I had a lifelong association with wood and using it to make anything I fancied.
This is a small woodcut print using five blocks and printed in the traditional manner of the Japanese Moku Hanga printing. Even though it is a small print, I have gone to great lengths to explain with photos all the steps involved with this particular method of printing. This can be viewed on my public page "La Prade Woodblock Printing by Wouter ten Broek" on Facebook. May very well be boring to fellow printers, but it may be of some use to those who want to try out this way of printing.
Image size 14 x 14 cm, paper size 18 x 18 cm
Image copyright © ACW ten Broek