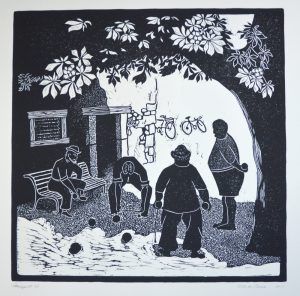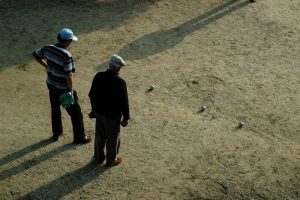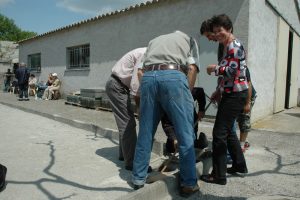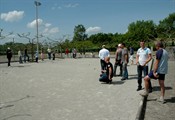 Pétanque is one of the favourite pastimes of the people in France.
Pétanque (French pronunciation: [petɑ̃k]) is a form of boules where the goal is, while standing inside a starting circle with both feet on the ground, to throw hollow metal balls as close as possible to a small wooden ball called a cochonnet (literally "piglet") or jack. It is also sometimes called a bouchon (literally "cork") or le petit ("the small one"). The game is normally played on hard dirt or gravel, but can also be played on grass, sand or other surfaces. Similar games are bocce and bowls.
The current form of the game originated in 1907 in La Ciotat, in Provence, in southern France. The English and French name pétanque comes from la petanca [peˈtaŋkɔ] in the Provençal dialect of the Occitan language, deriving from the expression pès tancats [ˈpɛ taŋˈka], meaning "feet together"[1] or more exactly "feet anchored".
This is an excerpt of an article in Wikipedia. For the full article, follow this link
With a bit of fantasy you could call this the equivalent of bowls in its various forms in the Anglo saxon world, but it is not really. From what I have seen it seems that every male infant after having seen first light and drunk some milk is whispered into his ear "one day, sometime, some place you will play the game" Apparently 14 percent of female infants received this message too.
Anywhere in France you could drive through a town or little village and all you have to do is to look for a shady spot under some plane- or chestnut trees in a quiet corner away from cars, cycles and other disturbing influences and you will find a group of people playing the game. And it is not just the older men playing it, but also the young ones and even children and what's more, the old and young are playing it together. They will turn up practically every day weather permitting and while away the afternoon socialising.
This is a lino print. The block is 6mm course cork linoleum 50 x 50 cm which is also the image size. I used Charbonnel noir douce oil based ink for printing. The paper used is Arches antique white. On the photos you can see the preparation of the block. Gluing it to an 80 x 80 cm sheet of MDF, varnishing around it, sanding and wet sanding before drawing the image (lightly) and cutting it. While printing it I build the surround up with corrugated cardboard and 3 mm MDF to prevent damage to the paper, help the roller of the press to ease on to the sandwich made of several sheets of stiff and soft paper, soft foam from a camping mat.
All images other than those in the referred Wiki article are strictly copyright to ACW ten Broek