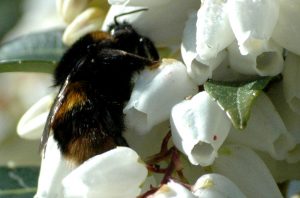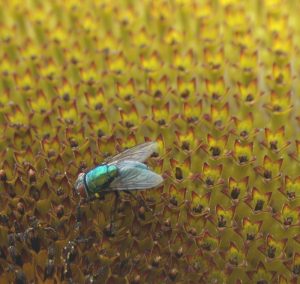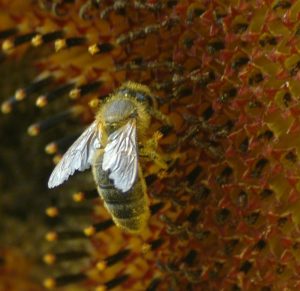 Throughout the year our garden attracts hundreds of bumblebees. They seem to be particularly attracted to the buddleia, passiflora vine, sunflowers, and a number of flowering fruit trees and canes. The "Bombo", seemingly trapped in a frame of 100 x 100 mm, which was the allocated size for an exchange with members of the Baren Forum.
To begin, there is a design which is then redrawn on a block of heart Kauri. After carving the block an impression is printed onto hanshita paper [a very thin paper backed by a different thin paper]. The hanshita paper is pasted face down onto another block with rice paste. Once dry, the backing is moistened and carefully rubbed off with the thumb [see photos]. This way you can create a sequence of blocks with perfect registration.
With this print I used mica powder to suggest the shimmering wings of the bumble bee. Thus two more blocks were created. One, in black, to depict the veining of the wings and one to print a slight excess of rice paste (nori) and while still wet mica powder is gently brushed on. The excess mica is removed by tapping the paper on the back and later blown off gently. It is advisable to wear a dust mask while doing this.
On one of the photos you can see a stack of cardboard which is used to dry and flatten the prints after a printing session. The eve before printing, all the paper is whetted and kept in a stack. The following day, the paper is kept moist by having it between moist sheets of news print throughout the printing process.
Sumi, dried pigments, mica powder, water and rice paste on Hosho.
One key block of Kauri timber and four colour blocks of Hoop pine ply.
Images copyright © to ACW ten Broek