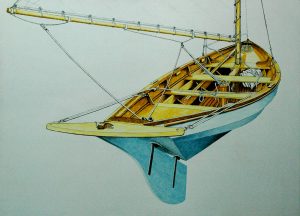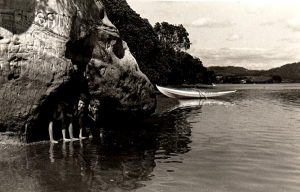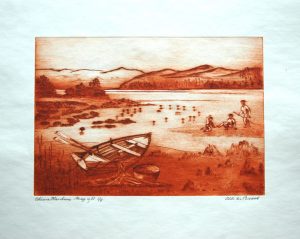 A roundsided Swampscott dory I ended up building. What I intended to build was a Canadian canoe. To that end I purchased a long wheel base Landrover to carry the canoe on top. However, once the makeshift workshop was built it was decided, that if I was going to do all that work, I might as well go the whole hog. An Alpha dory would have been nicer still but the workshop was not long enough.
For a couple of years I dreamed boats, talked boats, thought boats, read about boats and occasionally worked on it as well. It was good fun and I had a lot of guidance from a book written by John Gardner of the Mystic Seaport Museum in Boston.
The "Beach of Matapau" sailed on the Ohiwa Harbour in the Bay of Plenty, Lake Okeraka near Rotorua. in the Tamaki Straight between Auckland and Waiheke Island, around Saddle Island at Mahurangi and off Army Bay off the Whangaparoa Peninsula. Now she has been in a lake near Olonzac in the South of France and will probably end up as a fishing boat in the Mediterranean.
Main materials used were New Zealand Kauri, Fijian Kauri marine ply and Kahikatea for the laminated frames.
All images copyright © to ACW ten Broek