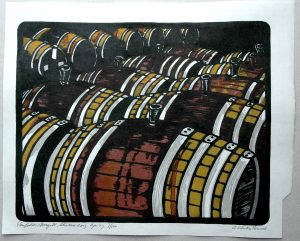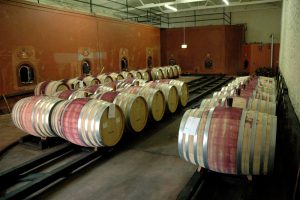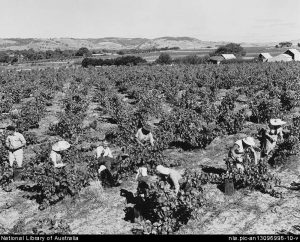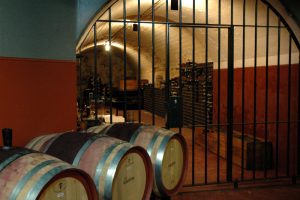 A wood block print made in the traditional Japanese Moku Hanga method. The size and format exactly the same as the "Grapevine in Autumn" print.. Eight blocks have been used and a ninth one as a correction block for extra shading.
Subject is a cellar of Penfold's Winery at Magill's, viewed while visiting Adelaide. This is the entire 2007 vintage Shiraz in the barrels. Normally this room is totally full, but because of the severe draught that year the intake was only fifteen percent of normal. What appealed to me was the rhythm of all those barrels neatly lined up with their shining hoops and the rich colours of the spilled wine. In spite of the hot and dry climate in Adelaide, like thirty six degrees Celcius at seven in the morning when we were there, Penfold's manages to keep their wine just at the right even temperature throughout the year as all their cellars are tunnelled into the Adelaide Hills. One particular storing vessel was named after Helen Keller, who profoundly blind, circled the vat, felt it with her hands and being told the height of it estimated the capacity almost perfectly.(the photo of that vat and the winery compliments to National library of Australia)
One of the images shows the print from the back. It looks ghost like, almost as you imagine to find the cellar in a thousand year time. That effect is from the pigment and its rice paste binder being forced into the fibre of the paper when printing. That shows that you are dealing with an original print and not something rattled off a computer printer. Something to remember when you are buying Moku Hanga prints for your collection.
The first block is totally flat and when printed on the moist paper without any pigment or whatever it is to flatten the fibres of the paper to obtain a nice and even printing of the subsequent blocks. It's called Beta Ban.
It was a challenging print to make, requiring careful planning to get all the shading right, The print size is 23.3 x 29.3 cm (same as the grapevine in autumn print) printed on shin Hosho using one block to smooth the printing area, one key block, five grey blocks and two colour blocks.
All images copyright © to acw ten broek